Who is Karuna Coffee?
Karuna Coffee is a fundraising ministry of Karuna Action, a local Christian charity founded in 1988 that works in 19 countries supporting projects to address the causes of poverty through education, health care and local income generation. All projects are run as partnerships with local people and churches around the globe, based on biblical principles. Projects may run for years, aiming to eradicate extreme poverty through sustainable, relational work. Tens of thousands of individuals and communities have been transformed by the love of God, expressed through compassion.
Compassion in a cup!
Karuna is passionate about the quality of its coffee and every part of the production process. Beans are ethically sourced, freshly roasted in its Aldershot-based premises and then shipped in freshness- guaranteed packaging. Karuna is both delicious and satisfying – every cup makes a difference in the projects supported by Karuna Action. Every penny of profit goes directly into the projects supported by Karuna Action. All costs of producing Karuna Coffee are covered through generous sponsors. It really is compassion in a cup!
Space for you to relax with a Karuna Coffee at LivingStones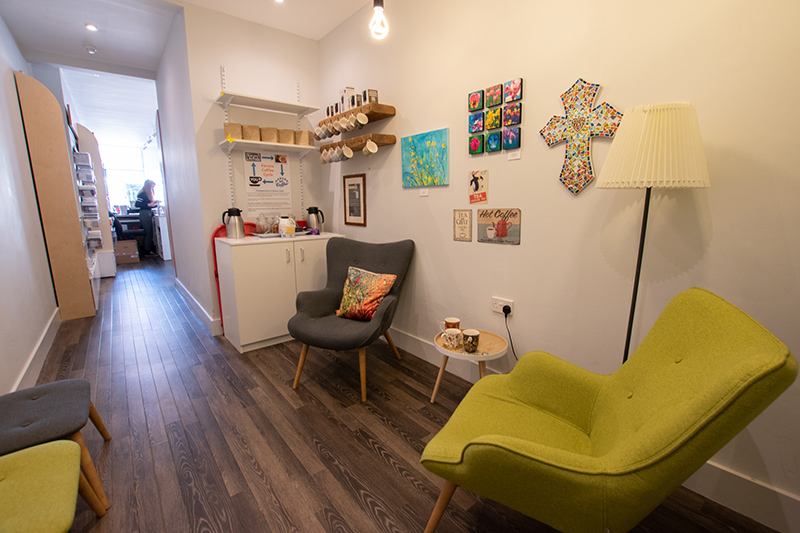 Welcome to the drop-in space at LivingStones Christian Centre. You can ask for a complimentary fresh Karuna coffee while you enjoy a sit down on a comfortable chair and rest awhile, meet with a friend or browse through a book or magazine.
Our stock of beans and ground coffees
LivingStones carries stock of Karuna's most popular beans and ground coffees; you can also order a wider range through the Karuna website and have your freshly roasted coffee, with free delivery, for you to collect at LivingStones. Coffee blends currently available include a range of delicious South American, African and Asian coffees, including decaffeinated from £4.95 for 250g. Full details and prices listed below
Karuna Coffees available
Brazilian MTGB FC & Dark Roast
Columbian Dark & Medium Roast
Guatemalan Dark & Medium Roast
Kenyan AB Honey Bush
Tanzanian Mjinja Medium Roast
Ugandan Bukonzo
Indian Medium Roast
Central Asian Decaffeinated Blend
How to order
Contact us to to find out more or place an order from our current stock. Bulk order pricing for Churches available. Please note, we stock a limited selection of blends in-store at any one time.