Join the Journey
LivingStones Christian Centre has undergone some major refurbishments that allow us to serve the Christian Community in Fleet with significantly improved facilities.
The centre is open again after referbishment work was completed in February 2018. Every aspect of the centre has been refreshed and some new facilities were added, with the intention of supporting all Christian's in Fleet and surrounding areas to carry out mission on the High Street.
The existing shop has been completely renovated and now includes a drop-in space for folk to drop in and wait a while. With coffee and tea facilities, this space is a great place to meet a friend, drop by for some prayer support or just to enjoy a break from shopping.
Our first floor includes a large community room and fully equipped kitchen diner, which is a great venue for use by the community. This is accessible from the front or the rear of the shop so is available for use throughout the week independent of shop opening ours.
Finally the top floor hosts a hot-desking business suite, encouraging local business men and women to meet together to build a business community. The hot-desking model will support occasional, as well as regular use.
The LivingStones charity funded the redevelopment of the centre through a number of generous donations, and were steered in the direction of the refurbishments by consultation with representatives of all the Christians in Fleet.
Now the major changes are completed, it is your turn to join the journey and make use of the facilities we are providing to support the missions God is calling you into on the High Street.
There are a number of ways you can join with us on the journey, these include:
Join our team of volunteer Church Champions in Fleet & Church Crookham
If you are passionate about resourcing Christians, meeting together and maintaining a Christian presence right on the High Street of Fleet we'd love it if you could prayerfully consider becoming a volunteer LivingStones Church Champion for your church.
What a Church Champion Can Provide
LivingStones bookshop at your church – book boxes Oversee the LivingStones 2U book box scheme for your church. We can arrange to deliver the books and cards to you, and include specific items at your request to meet your churches' current needs. Someone to pass information to the right people Distribution of information to the relevant people in your church – for example the church leader, and people who oversee key areas of communication such as the Sunday morning notices, email, newsletters, social media etc. Two-way communication You could pass to us details about church events or other relevant information to publicise at the centre on the High Street, on our website and social media.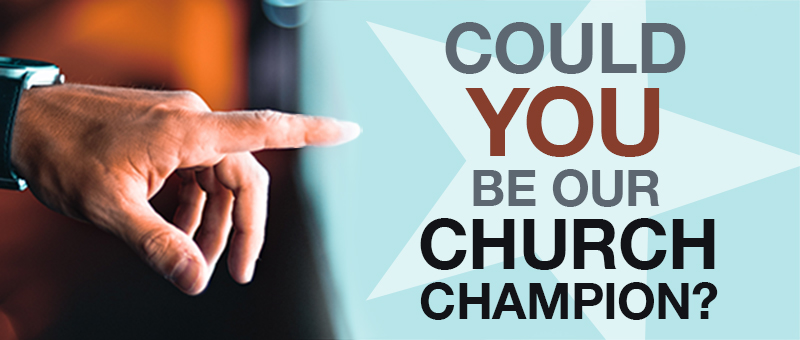 How to get started
Let us know if you are interested in becoming a LivingStones Church Champion. You can do this by filling in the form below.
We'll get in touch to arrange a time to meet the team and discuss how we might work together, with you acting as our champion within your Church.
We'll help you get started with the resources and knowledge that you need and maintain regular communication with you.
A short note from Emma (Church Champion co-ordinator)
Hi. I'm the central Church Champion co-ordinator. I report directly to the Directors to see how best, as champions, we can serve our churches better and from there our town community. Please do let me know if you would like to join the team and help us get Bibles and life-changing Christian resources into people's hands and spread the word about all that we're doing here at LivingStones. Just fill in the form above and I'll be in touch! It is so exciting to see how we can best work together in the future, and to see how God will use us all for His kingdom. Blessings Emma
Part of LivingStones mission is to get helpful resources and materials into the hands of Christians and those exploring the faith.
(more…)